How to choose your yacht transport?
How to choose your yacht transport?
SHIPPING YOUR YACHT? 5 LOGICAL STEPS BEFORE BOOKING
Congratulations! You have decided to relocate your yacht to discover a new cruising destination, or you have just purchased a yacht and need to have it delivered. And now you are looking for the best solution to do so. But how do you find shipping options that meet your requirements? And what to expect in terms of service levels, prices, payment terms and what are potential pitfalls?
A better understanding of the ins and outs of yacht shipping can not only assist you with making an informed decision when booking transport, it also enables you to better plan your own logistics around the transport. Although it is impossible to describe what goes on in yacht shipping in just a few pages, this article is meant to provide a useful checklist for anyone considering to ship their yacht.
Read on to familiarize yourself with key factors in yacht and commercial shipping and learn how you can do your 'due diligence' by following five logical steps before booking.
'DUE DILIGENCE'
Due diligence is the investigation that a reasonable business or person is normally expected to conduct before entering into an agreement or contract with another party. The phrase has been in use in a legal sense since the mid-1400s. It is a combination of two words derived from Latin: due, from debere, which means to owe and diligence from the word diligentia, which means carefulness or attentiveness. Simply speaking, it is a big word for what you are already doing when spending a larger amount of money, for instance when buying a new car or planning a new kitchen. Key for the assessment is that:
• the purpose is to make an informed decision.
• the process through which to do so is systematic, and
• while doing the research, you can use both publicly available information (internet, recommendations), as well as work with the targeted 'provider' to clarify specific details.
So, what are the five distinguishable phases in the decision process?
1. DEFINE REQUIREMENTS & SET YOUR PRIORITIES
Getting your yacht safely from A to B for the least amount of money, on time and within budget seems the number one no-brainer requirement. However, yacht owners or professional crew who have had boats shipped before can tell you there is more to be considered. What kind of yacht are you shipping and what are the technical details? Do you have a sailing yacht that you would like to ship mast-up? Or an extra heavy motoryacht? Or a modern yacht with new design features that cannot bear much stress of lifting slings? A wooden yacht that needs to be kept wet during transport on deck? Perhaps a classic yacht for which no drawings exist anymore? Or a racing yacht that cannot take the full weight on its keel? Are you shipping a superyacht that needs power and cooling water to keep air-cons running? Can your yacht come alongside the freighter and lift from the water, or does it need to be lifted from the quay or from a barge? Write down all specific technical requirements, questions, and issues that you can think of.
Now is also a good time to start collecting the technical documentation on your yacht. This information will provide crucial later both when asking for quotes as well as during the operations phase. The better the information on your yacht, the better service can be given to you and the least chance for unforeseen issues later on both for you and the shipping company. • Do you have access to exact technical drawings clearly stating yacht measurements (length overall, beam, height of the hull, height of the mast, overall height, Center of Gravity and displacement). Note that shipping companies need to know the absolute total size, including davits and overhangs, to be able to calculate the space your vessel takes up on the vessel. Also the total weight for lifting and stowage is important (gross tonnage is not of use). • Do you have lifting and docking plans for your yacht? • For larger yachts: do you have a stability book? Or for sailing yachts do you have a rigging plan? • Have any alterations been made to your yacht that may influence the loading and docking (e.g. by moving the Center of Gravity)?
Then think about ports. Where is the yacht located and what are your preferred ports for loading and discharge? Also think about how flexible you are to ship from and to other ports in the region and how easy is it to get there?
Is there a specific time frame that you are looking at, for instance at the end/beginning of the season? How flexible are you re: timing? Is your yacht coming out of the factory, or refit, and are any potential delays from your side expected?
Next to relocating the yacht from A to B, realize what other benefits of shipping are important to you. For instance, you will have more time to explore a destination. Or your crew is getting time off. A sure advantage of shipping is less wear and tear on the boat and lower engine hours. Is your yacht passing war or conflict zones that need to be avoided, or are you shipping across waters/seasons that are not easy to navigate?
Then list what added services you require. • Does your yacht come with its own cradles (and where are they stored) or would you like the yacht transport company to supply cradling for you? • And what else do you need, such as delivery skippers, assistance with preparing your yacht for transport? • For larger yachts: do you require riders on board to travel with the yacht? • Do you need access to or help with local information or support with other on-site logistics or paperwork, Covid-19 or non-Covid related? • Will you need to rely on a local team on the ground, for instance to organise a barge to take dedicated cradles, your mast, or other materials to the vessel? • What about delivering the yacht to the freighter, do you need an extra hand to come alongside, or perhaps your yacht is not maneuverable and needs to be towed?
In terms of paperwork and regulations do you need assistance with information and procedures for customs clearance, import duties and VAT? Perhaps you buying a pre-owned boat that needs to be de- and re-registered to another flag state? Is your yacht transiting the Suez Canal and is it over a certain length, so it needs a valid Suez Canal Certificate? Or are you interested in cruising or chartering permits for the country of destination?
To be a global expert on all worldwide regulations, customs, duties, VAT, and other paperwork in every port will be virtually impossible for any yacht transport company, however, if companies have a solid and reliable global network of up to date, on the ground agents, they can certainly help to put you in the right direction.
Finally prioritize your requirements and decide where you can be flexible and where not.
STEP 1 OUTCOME: A prioritized list with requirements for shipping your yacht.
2. FIND SUITABLE SHIPPING OPTIONS
To find shipping options you will likely search the internet and ask other yacht owners, captains or crew who have shipped before. Other good sources of information are yachting directories, marina managers, yacht agents, surveyors, and other local professionals active in the yachting industry. Next to finding out what routes and options exist when and between which ports, you also need to decide on the kind of shipping you are after. Here are some terms.
•Liner: Referring mostly to container line shipping, but also Ro-Ro carriers and sometimes general cargo vessels. Key here are large operators offering fixed and frequent services between a network of fixed ports. Liner operators often work with central ports where cargo is delivered via feeder ships and then transhipped.
• Charter: Referring to a model where a cargo vessel, or more often part of a vessel (space on deck or space in the hold) is chartered for delivering specific cargo from port A to port B. The choice of ports is wider as these vessels do not depend on container crane infrastructure and can load and discharge yachts even at anchor. A second dimension is to look at the loading method that is used for shipping.
• Lift on/Lift off: Your yacht is lifted on and from board using slings and cranes, or sometimes is attached to a cradle or flat rack (container). Charter vessels carry their own cranes and can be selected depending on the crane capacity and deck strength required for the displacement of your yacht. For container ships lifting is done with container cranes on shore and sometimes also with floating cranes when more some more lifting capacity is required, but generally speaking, charter options are more flexible in terms of lifting methods and stowage requirements and the ports they can come to for loading or discharge.
• Float on/Float off: A loading method used for semi-submersible vessels, where yachts are 'floated' on and off the vessel. DYT, a sister company of Sevenstar, is a dedicated Flo/Flo carrier operating now two and soon three semi-submersible vessels. DYT operates mostly in a 'liner' fashion with fixed schedules between fixed ports.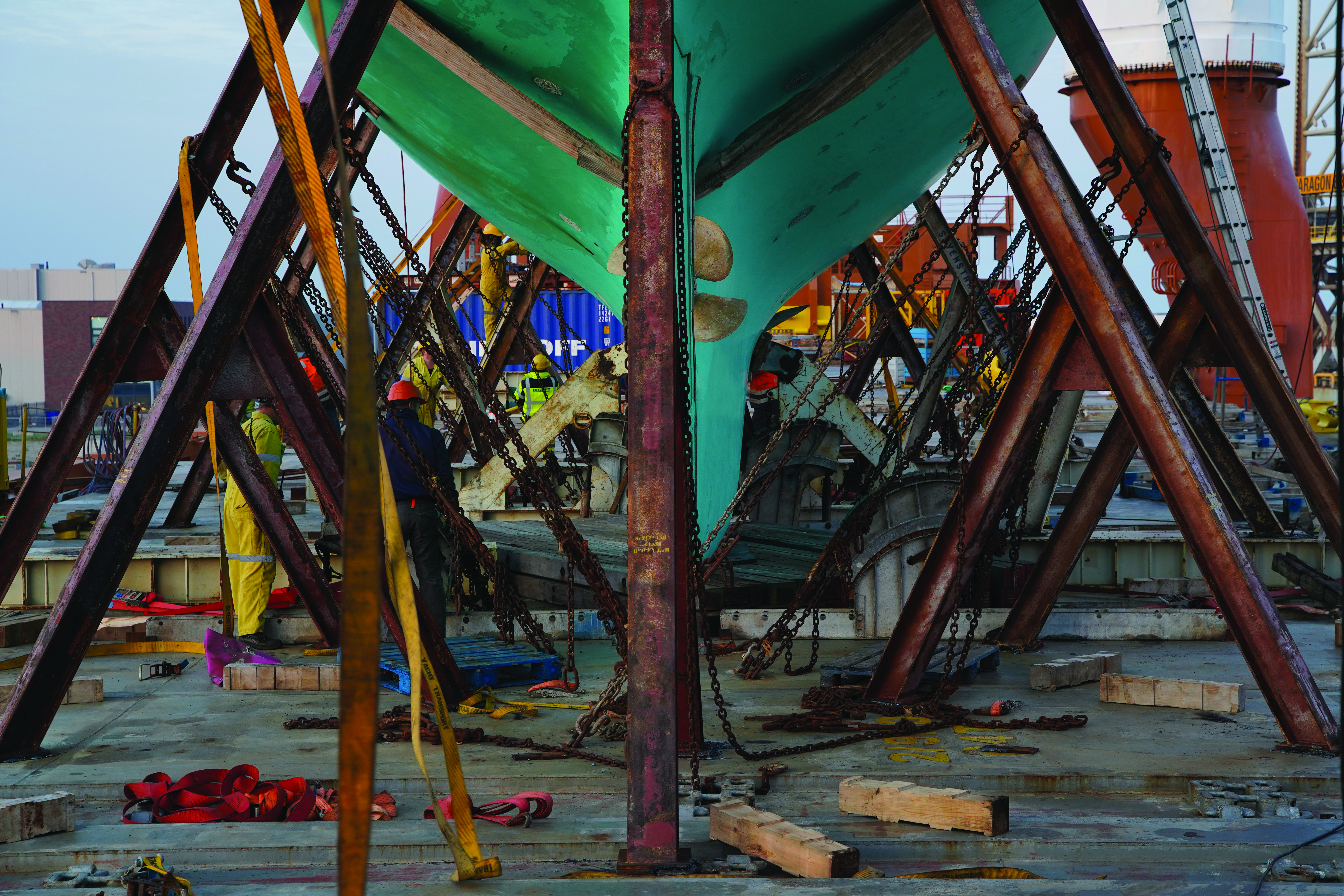 Now, which of these methods works best for your yacht relocation? Except for routes and ports, it is good to look at the following factors and understand the general nature of the beast that is commercial shipping.
• Are you looking at shipping mast-up? Then you need either a charter (lift-on/lift- off) or a float-on/float off solution, as mast-up is generally not possible on container lines. If your mast is very high look for real loading expertise.
• Timing. If you have a smaller or mid-size yacht to ship (say up to 80 ft), it is more economical to look for sailings where more yachts are combined and fixed costs for port calls can be spread over several clients. Often these sailings are seasonal (e.g. at the end of the Caribbean season back to the Med). However, if you are shipping a larger yacht also dedicated shipping options are viable.
• Special services such as power, water, rider and keeping the hull wet are easier arranged on charter or dedicated sailings.
• Port Rotation. With liner vessels the number of ports is limited, the ports are fixed, and the timing is set. For charter sailings a customized port rotation is made for all cargo on the vessel and even while the vessel is underway, ports can be added, depending on the contracts. For yacht shipping this practice is industry standard: without this option yacht transport would become too expensive.
• Nomination & ETAs. For charter sailings a specific vessel is only nominated once the required crane capacity, deck space, deck strength and ports are known. Therefore, quotations and contracts will state a loading window, rather than a specific loading day. From the moment a specific vessel is nominated clients are informed with ETAs for arrival in the port of loading. These ETAs can still shift forward and backward, as the vessel's progress depends on foreseen and unforeseen factors like weather, sea state, progress of port operations in other ports, port congestion and even incidents like the recent one in the Suez Canal.
STEP 2 OUTCOME: A series of options for shipping your yacht from A to B.
3. WHO IS THE COMPANY BEHIND THAT FANCY WEBSITE?
You'll be tempted to get quotes for all shipping options and focus on the cheapest ones, however you can save yourself a lot of time and headaches by making a shortlist first based on a little research on who the companies are behind the fancy websites and the range of services that they offer. Yacht shipping companies can be divided into the following categories.
• Full-service yacht carriers operate their own vessels, use own lifting and cradling materials, employ dedicated load masters, have an in-house operational team with engineering and logistical experts an international sales organization and a global network of local agents.
• Large freight forwarders also have a global scope and local knowledge, but don't operate their own vessels and often use container line operators or the services of full-service yacht carriers for the engineering, loading/discharge, and carriage of yachts.
• Smaller companies and one-man/one-women logistic agents have a much smaller set-up. They often look after a specific route only and use full yacht service carriers and liner companies for the operations and actual shipping.
Next to finding out which kind of company you are dealing with, the most important thing for you is to feel secure that (1) your yacht (your 'asset') and your payments are safe with the company you choose to work with, (2) the shipping will happen when and where as promised and (3) you are in good hands if things don't go as planned. But how can you know?
Scope. A large setup will be proud to show staff details and team photos on the website and social media. Can you see how many people are employed, can you put a face to a name, and can you call them? Does the company advertise their own vessels? Do they publish photos of their operations and of warehouses where their own materials are stored and moved from?
Financially stable. What is the heritage of the company and how long have they been around? Who are shareholders? Who are the company's clients? Do clients complain about losing money?
Track record. All companies will claim they are the best, but what is the real experience they have in shipping? When did they start, how many yachts do they ship, how many sailings per year and how satisfied are there clients? You can ask the company for references, but also googling for client experiences is not difficult.
Operations. What in-house knowledge and capabilities they have and how big is the operations team? Can you get a lifting plan or a stowage plan for your yacht? Do they have in-house loadmasters? Are loadmasters certified? Do they have custom engineers?
Damages & insurance. Does the company have a low damage rate? And what if things do go wrong (as damage can occur)? Does the company provide yacht insurance? And how are insurance cases handled?
Local knowledge / Local support. Does the company have a local team on the ground where you are loading, and can they assist you with local services and knowledge?
STEP 3 OUTCOME: A shortlist of shipping options and companies to ask for quotations.
4. SCREENING QUOTATIONS
You have done most of the work and are now ready to get and screen quotations. If you work with reputable companies, they will normally specify on the quotation what is and what is not included. Next to the price important things to check are: Does the quote mention a specific, fixed vessel to perform the sailing, or is this for a future sailing? What shipping times are mentioned? For charter shipping it is normal that offers (and contracts) mention a time-window for loading rather than a fixed date. Depending on the route (and the availability of vessels on this route) a time window of anything between 10 days to 6 weeks (and occasionally even longer) can apply.
Since commercial shipping is such a dynamic line of trade following world economies and related supply and demand for cargo, the availability (and thus price) of cargo vessels on specific routes is ever changing. If your shipping plans are still far away, it is good to know that predicting exact loading dates or even narrow loading windows is hard for most yacht shipping companies in the 'charter' business. The most import thing, however, is for you to be aware of this timing factor and that some flexibility from your side may be required, and of course, whether that fits your plans.
What operational aspects are included in the shipping price? Look for: cradle and lashings, loading and discharge operations, wharfage fees, customs clearance formalities. For larger yachts loading & lift plans can be supplied and for very large or delicate yachts sometimes even on-site inspection may be included. If your yacht will be moved between the Med and Asia, check if Suez Canal passage fees are included and whether a valid Suez Canal Certificate is required from your side.
Is marine cargo insurance included in the freight and if not, what are the costs for insurance? What is the insurance deductible applicable to your yacht? For long or complicated routes: will your yacht be transshipped somewhere and what about the costs during transshipping (e.g. marina berthing, extra yacht delivery) and who is organizing and paying for these?
Does the company have local teams on the ground for local customer service and are local logistics of getting to and from the vessel included?
Also check the Validity of the offer. Offers are generally limited in time as prices in commercial shipping are never stable and follow world events and economy.
STEP 4 OUTCOME: Your preferred shipping option.
5. FINAL ASSESSMENT & BOOK YOUR SHIPPING
Now it is time to read the fine print: check the shipping contract, general terms and conditions and insurance details.
If the company is transparent, they will send you the small print already with the booking note, if they don't you can ask for it. Most companies' small print is usually fixed and non-negotiable, although on some points there may be room for negotiation, which is more likely when you are shipping a larger yacht.
Payment terms. Paying a deposit on booking to reserve your space and then a balance before shipping is pretty much standard practice in the industry, although a company like DYT Yacht Transport, that exclusively uses float-on/float off carriers, will ask for 100% advance payment. Check when your balance payment is due. Cancellation terms. Make sure you understand what your options are in case you would wish to cancel the contract. Delays. What does the contract say about delays or potential vessel replacements? Check the Demurrage, which is the fee that you need to pay when the vessel needs to wait for you in case you / your yacht is delaying the loading or discharge operations. Who is paying waiting days in port for the vessel where the waiting is not caused by you, for instance in case of bad weather, or swell or port congestion? Some companies will hold the yacht owners liable for this. Is anything specified in your contract? What is covered by the marine cargo insurance and to what amounts and what extra insurance options are available, like 3-rd party liability insurance or insurance of pre-and post-shipping yacht delivery? Check if specific damages (e.g. paint damage) are included as well, as some companies exclude them.
STEP 5 OUTCOME: Is all in order and are you happy with the total package? Congratulations, you are now ready to sign your shipping contract!
Thanks for making it all the way to the end. I hope that this article gives you good insight and as a checklist a better handle on booking your yacht transport.
Author: Marieke Derks